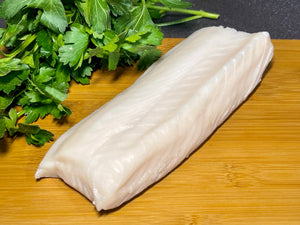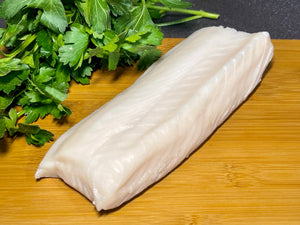 On Sale
Alaskan Black Cod - Approximately 8 oz
8 oz Filet.  With skin, no bones.
1 Portion.
The infamous Alaskan Black Cod has a rich buttery texture that can be cooked in many different methods.  Try Chef Josh's Miso Sauce to make your own Black Cod Miso!

This fish is packed with heart & brain-healthy Omega-3s!
To make Black Cod Miso:
Simply marinate each piece of Black Cod with 2 ounces of Miso Sauce in an air-tight ziplock bag for two days. Take the Black Cod out of the marinade and place it on a non-stick tray with the skin side up.  Bake at 350 degrees (convection if possible) for about 8-10 minutes. Then, flip the fish and coat the white side with a little fresh Miso Sauce from the jar and finish cooking until the fish flakes and is tender. You can finish with a high broiler or torch to caramelize the top!